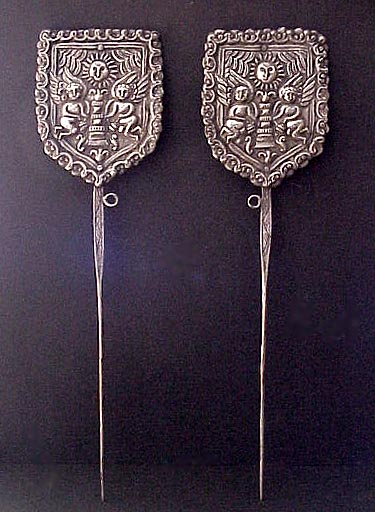 Antique Spanish Colonial Silver Santo Madonna Adornments, Tupos
These two beautiful large tupos once graced a cape or capo that covered a large Virgen Santo in a church near Potosí Bolivia. The melding of colonial and indigenous cultures is sometimes apparent within the walls of the old catholic churches in the large colonial cities in South America. The large Virgen Madonna Santo was draped in typical catholic fashion in a large vestement covering her shoulders; the addition of these two large beautifully formed tupos was the result of the indigenous community combining their own traditions with the new Christian ideals. The two tupos, dating from the 19th c., are beautifully formed from solid silver with highly detailed repousséd Angels and colonial foliate designs, with each tupo slightly different. These are extremely rare, I had another pair, now sold, and these are from my own collection (now time to part with them). These are beautiful Spanish colonial silver treasures from South America!
Measurements: 16" long; 306.2 grams total weight
#23201 $2800
| | |
| --- | --- |
| | |
| | |
© Copyright 2002 by Nomad's Journey.
All photos, graphics, images and stories are the property of Nomad's Journey and cannot be used without permission.