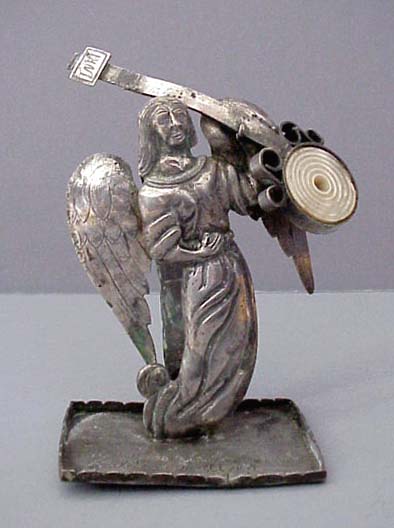 Antique Spanish Colonial Silver Limosnero, Alms Bowl Ex Voto
This is a wonderful silver Limosnero Ex Voto, or alms collection bowl from South America. The limosnero, also referred to as a "demanda", is carried by monks and nuns in religious processions by the handle to collect charitable money from the participants. This limosnero was given to the church in Cusco by an athletic soccer group (Sociedad Atletica) as an ex voto for a successful season, and bears the inscription from them as well as the date 1926. The beautiful image of an angel carrying a musical instrument is gorgeous - the body of the lute is formed from a carved piece of mother of pearl! The silver is high content (although I have spot cleaned the limosnero it could be further polished if the new owner desired) and beautifully formed with detailing throughout. The limosnero ex voto is in wonderful condition making this a rare and beautiful treasure of Spanish Colonial art in the new world.
Measurements: 4 1/2 " high (approx. 10.2 cm); 136 grams
#22988 $1490
| | | |
| --- | --- | --- |
| | | |
| | | |
© Copyright 2002 by Nomad's Journey.
All photos, graphics, images and stories are the property of Nomad's Journey and cannot be used without permission.