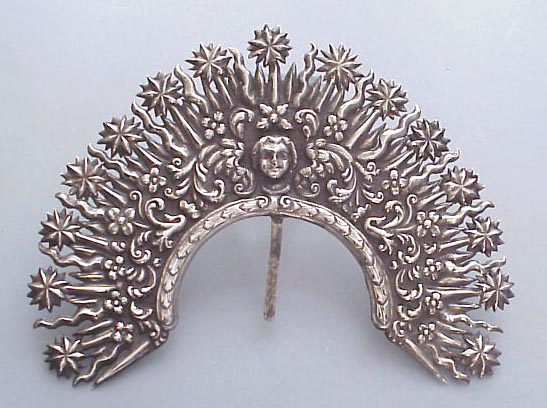 Spanish Colonial Silver Angel Resplendor Santo Crown
This is a beautiful and faithful reproduction of an 18th century Spanish Colonial silver Santo or Madonna Resplendor Crown from South America. The corona has been formed from high content .925 silver using fine repoussé with traditional colonial foliate designs featuring an exquisite winged angel in the center. There is a phlange at the bottom for attaching to the carved wooden Santo or Madonna. This is an absolutely gorgeousl devotional item from Spanish colonial South America.
Measurement: 8" diameter; Inner opening is 3"; 87.9 grams
SOLD
© Copyright 2002 by Nomad's Journey.
All photos, graphics, images and stories are the property of Nomad's Journey and cannot be used without permission.