Old Spanish Colonial Silver Pregnancy Milagro, Ex Voto
Ex votos and milagros, are commissioned by a devotee and brought to a church as an offering for a promise fulfilled. This is a wonderful ex voto depicting a woman's pregnant torso, perhaps as an offering for a pregnancy, or the wish to become pregnant. The ex voto is formed from thin sheet silver using the repoussé method.
Measurements: 3 1/4" x 2 1/3"
SOLD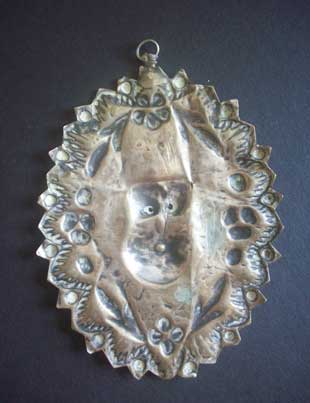 Back of Milagro
© Copyright 2002 by Nomad's Journey.
All photos, graphics, images and stories are the property of Nomad's Journey and cannot be used without permission.